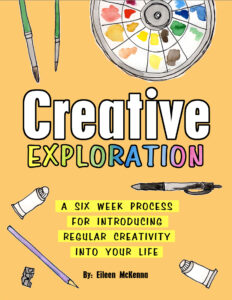 Looking to inject creativity into your life?
Find inspiration, explore mediums and subjects and find your "thing" with Creative Exploration.
A step by step process for introducing regular creativity for six weeks and beyond.
Worksheets for taking stock of your creative goals, history, past hurdles.
Worksheet for organizing and prioritizing all of your creative ideas.
Over 30 creative tips to keep you on track.
A detailed process for introducing you to different mediums – with flexibility for your interests.
I am an Amazon affiliate. I earn a small commission whenever you buy on Amazon using links from my site, at no additional cost to you.